I recently spent a lot of time preparing the first two episodes of the Help Start My Site podcast for launch.
Having no previous experience podcasting, I was in for a huge wakeup call when I sat down to actually begin recording, and another shock later on when it came time to publish. If you're considering starting a podcast sometime in the near future, you may just encounter some surprises. I surely wasn't expecting any of these!
Here are 7 things I learned recording and launching the first ever episodes of the Help Start My Site podcast.
1. Your Nervousness Will Show
When you write things down, it's fairly easy to mask whatever emotions you're feeling at the time. You can change words around and mess with things until you get exactly what you're looking for.
It's not quite as easy when you're recording audio.
I was nervous when recording the first episodes of my podcast, and it showed. You could hear quite clearly during my first recordings that I did not feel confident in myself.
When I wasn't stuttering or using filler words like 'uh' or 'um', I was talking incredibly fast or mumbling.
I was never a great public speaker, and it didn't get any easier when I was sitting alone in front of a microphone in my home office. I knew that I could go back and re-record things if I messed up and that nobody would ever hear my mistakes, but I still felt a lot of pressure, and that made its way into the recordings.
To be quite frank, I'd feel sorry for anybody that was forced to listen to whatever I was saying because it probably wouldn't make any sense.
2. 20 Minutes Of Audio? 2 Hours Of Work!
I couldn't just leave the audio like it was. If I put out my initial first recording of the podcast, I would be doomed from the start because it was really that bad. Despite only recording 20 minute segments of audio, those 20 minutes took 2 hours of work to fully produce to a point where the quality was acceptable.
30 minutes to plan.
20 minutes to record.
40 minutes to re-record.
30 minutes to edit.
Unfortunately, this does not even include the time it takes to render and export the .mp3 file, upload it, tag it, and everything else that comes with publishing a podcast.
Needless to say, getting this podcast done was a lot more work than I initially thought. I wasn't expecting it to be a walk in the park, but I also wasn't expecting each minute of audio to take more than 6 minutes of work.
The good news is that this was my first time producing a podcast, so I had a lot to learn. I'm sure with additional practice and experience the entire process will speed up.
3. Notes Help
I started out with a brief outline of the topics I wanted to cover, figuring it would be best to say what instantly comes to mind.
…Then I realized that I'm honestly not that great of a talker. At least not yet.
As I recorded and re-recorded, I found myself consistently adding more and more to my notes, making sure I remembered to say things that I wanted to say.
When I had a hard time conveying an idea or explaining something in a way that would make sense to my audience, I had to change things up. Brief notes wouldn't do, and for certain sections I had to write out exactly what I wanted to say, and read it over while still trying to sound natural.
I'm hoping that as time goes on, I'll get better and better at explaining things and just speaking naturally. Until then, I found that detailed notes were a great resource to fall back on!
4. Looking Professional Costs Money
I don't aim to be mediocre, and it was my full intention to appear as professional as possible despite the fact that I'm a complete amateur.
There were two problems. I'm not a great audio producer, nor am I a graphics designer. Sure, I could take the time to learn, but in all honesty, it's really not worth my time right now.
So I turned to my freelancing site of choice for small projects, Fiverr.com.
The first task was to get some professional looking cover artwork done. I have been told time and time again that the cover art of your podcast has a huge effect on how often it gets clicked and played on platforms such as iTunes, so I couldn't skimp on this. I hired somebody for $5 and ended up with artwork that isn't the greatest, but is still far better than anything I could come up with!
While not completely necessary, I also wanted a professional introduction and conclusion to the podcast, voiced by someone who had experience in this area. I paid $20 to a seller I've never used before, and was blown away by the results.
In all honesty, I was not expecting such high quality work for only $20. I have purchased a lot of gigs on Fiverr, but I have never received such a huge amount of value for such a cheap price. This seller gave it his all, and I would fully recommend his work if you ever want to create a podcast. You will not be disappointed!
5. Hosting Is Expensive
If you know me, you'll know that I hate spending money. I write extensively in The Young Entrepreneur's Guide To Business, Finance, and Life the importance of spending as little as possible, and putting your excess money to work for you.
This means buying things that will make you more money, such as stocks, bonds, or real estate.
This also means investing in your own business.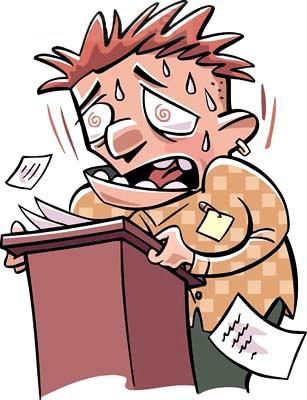 Although I was seriously considering using a free platform, I decided against being a cheapskate and ended up buying hosting from Libsyn for $15 a month.
To be honest, I would be insulting myself if I did not think that the podcast would be able to cover its own hosting cost, and insulting all of my listeners by using a free service and forcing them to deal with slow loading times as a result.
Although I'm still figuring the ins and outs of Libsyn, I have heard from others that their service is the best available and that I definitely won't be disappointed with my purchase.
Taking a look at the incredible amount of features they have, I think they'll end up being right!
6. Your First Episode Sucks
My first episode was absolutely horrible. So much in fact, that it was a pain to listen to.
I thought I would be able to fix some of the worst areas with careful editing, but I couldn't manage to do it and still have the podcast sound natural.
Instead, I scraped the first episode completely and re-recorded the entire thing.
Fortunately, I had already learned a lot by the time I had recorded the second episode, and was able to get the majority of episode 2 done in one recording. You can tell that I was a lot calmer and a lot more experienced by my second episode, and I'm hoping that the trend continues into future episodes as well.
My goal in the long run is to speed up this process and improve every single week. Before long, podcasting may be something I end up being great at!
7. The Experience Is Extremely Rewarding!
Despite starting out absolutely horribly, I am not one to give up easily. I am so thankful for that because I know a lot of people would quit right away and decide that podcasting just wasn't right for them.
Here's the thing –  while some people are better talkers than others, even the best of us do not start out all that great. All of the world's top podcasters started out somewhere. The ones you know and love today are the ones that pushed through it and were determined to succeed. The others aren't around anymore.
I have been listening to podcasts for a while now and finally creating one of my own was an extremely rewarding experience. The fact that it was so challenging for me made it an even greater accomplishment in my eyes.
Despite taking a ton of time to plan, prepare, and produce, I know this project is going to be something I enjoy doing every week and I can see myself continuing it for years to come.
What Now?
The podcast is now live and will be available shortly on your podcasting platform of choice. When that time comes, I will be sure to edit this post with links to the podcast on all of the major platforms.
Every podcast launch is an extremely important time, and I would love your help to make it as successful as possible. I would really appreciate it if you would take the time to subscribe to the podcast and leave it a favorable rating if you feel it deserves one. My goal is to make it into the "New and Noteworthy" section of iTunes, where I'll be able to attract a large amount of organic traffic right away.
I would also love it if you'd give me any suggestions or feedback on the show that I can use to improve it. I'm not an expert by any means and while I know I'll naturally improve in the coming months, your feedback can help me speed up that process.
Finally, if you have any questions for me or you're looking to start a podcast yourself, please let me know and I'll help you out to the best of my ability.
I'm looking forward to hearing your thoughts!